A Legally Binding Arctic Scientific Cooperation Agreement
The eight Arctic governments signed the Agreement on Enhancing International Arctic Scientific Cooperation (sometimes colloquially referred to as the Arctic Science Agreement) on May 11, 2017 in Fairbanks, Alaska; the Agreement entered into force on May 23, 2018.
The Agreement facilitates access by scientists of the eight Arctic governments to Arctic areas that each government has identified, including entry and exit of persons, equipment, and materials; access to research infrastructure and facilities; and access to data.
The Agreement also calls for the parties to promote education, career development and training opportunities, and encourages activities associated with traditional and local knowledge.
The Agreement applies to these areas, as described in Annex 1 of the Agreement: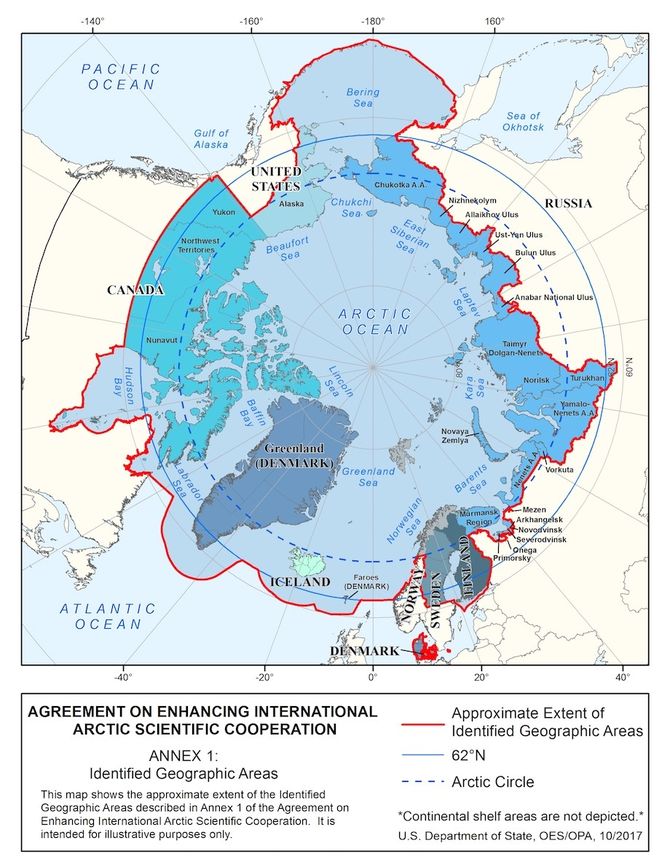 Who should I contact with questions or concerns about issues addressed in the agreement, such as difficulties gaining international access for scientific research?
For authorization of Marine Scientific Research, the initial point of contact remains the Ministry for Foreign Affairs. Email: postur(at)utn.stjr.is
For all other issues:
Icelandic scientists and other "parties" (as defined in the agreement) encountering difficulties addressed in the agreement in any of the other seven Arctic governments (Canada, Denmark (Greenland/Faroes), Finland, Norway, Russia, Sweden and the United States) should contact the Icelandic Centre for Research, Rannis. Specifically, contact Egill Thor Nielsson, Senior Adviser, e-mail: egill.thor.nielsson (at) rannis.is . Please do not attempt to directly contact the competent national authority in another Arctic nation. The national authorities prefer to engage directly, with each other, on behalf of scientists in their respective nations.
Scientists based in the other Arctic governments who are encountering difficulties in attempting to conduct research in Iceland, or in other Arctic nations, should contact their respective authorities, listed in Annex 2 of the agreement or on the IASC webpage

Scientists from governments that are not signatories (i.e., non-Parties) to the agreement but are encountering difficulties while attempting to conduct research in the US Arctic region should seek assistance from their governmental representative who would, on behalf of the scientists, contact the Icelandic Centre for Research, Rannis. Pls. see contact details above.

More information is available on the IASC website