The Icelandic Innovation Award
The award was first granted in 1994 at the annual Innovation Congress. The objective of the award is to emphasise the important connection between research, innovation and knowledge on the one hand and increased value creation in the economy on the other.
Information about the Innovation Congress (in Icelandic)
The first Innovation Award was granted in 1994 by the Icelandic Research Council and the Trade Council of Iceland (Now Promote Iceland). The aim of the award is to highlight the important connection between research and innovation and higher levels of wealth generation in the business sector.
---
The Icelandic Innovation Award has been granted to the following companies:
2019 Curio
2018 Kerecis
2017 Skaginn (now Skaginn 3X)
2016 Dohop
2015 Zymetech
2014 Meniga
2013 Valka
2012 Primex
2011 Mentor
2010 Nox Medical
2009 Mentis Cura
2008 ORF Genetics
2007 Hafmynd
2006 Star-Oddi
2005 CCP
2004 Lyfjathroun
2003 Altech JHM
2002 Stofnfiskur
2001 Fiskey
2000 Blue Lagoon
1999 Medcare
1998 DeCode Genetics
1997 Hugvit GoPro
1994 Vaki

---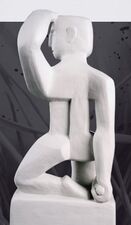 The Award
The award is a statue of Freyr, the Nordic god of fertility and vegetation, by the sculptor Hallsteinn Sigurðsson. He is very interested in Nordic mythology and uses motifs from it in is art.
Writing in the 13th century, Snorri Sturluson includes this description of Freyr in his Edda: "Freyr is the finest of the Æsir. He controls the rain and the light of the sun and consequently the fruits of the earth and can be invoked to secure good harvest and peace."
Freyr was the god of agriculture and fertility, both of men and animals. His cult seems to have been surpassed only by that of Thor.